Introduction
In today's digital age, a well-designed and user-friendly website is essential for any business, including cell phone repair services. A well-structured website not only attracts potential customers but also builds trust and credibility in your brand. In this comprehensive guide, we will delve into the key elements that make up an effective cell phone repair website. Whether you are starting a new repair business or looking to revamp your existing website, these insights will prove invaluable.
The Key Elements of a Cell Phone Repair Website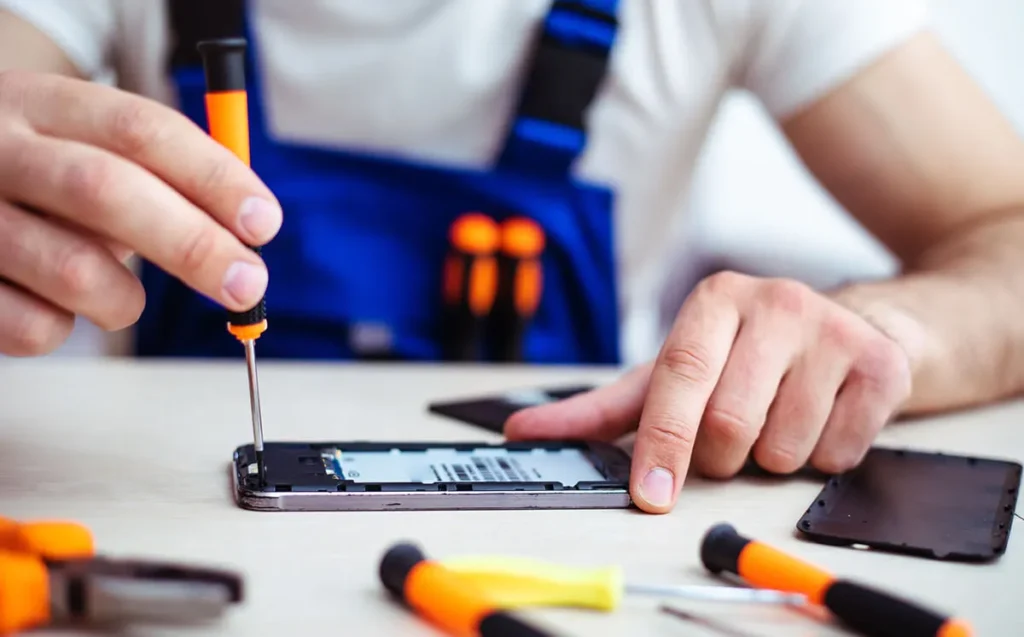 Let's explore the essential components that will help your cell phone repair website stand out and succeed:
1. User-Friendly Navigation
Navigating your website should be a breeze. Use intuitive menus and clear labels to help visitors find the information they need quickly.
2. Compelling Visuals
High-quality images and videos of your repair shop, technicians, and the repair process instill confidence in potential customers.
3. Informative Content
Provide detailed information about the types of phone repairs you offer, including common issues and estimated repair times.
4. Customer Reviews
Display genuine customer reviews and testimonials to showcase your reliability and expertise.
5. Contact Information
Make it easy for visitors to get in touch with you. Display your phone number, email, and physical address prominently.
6. Online Booking System
Implement an online booking system that allows customers to schedule repairs at their convenience.
7. Pricing Transparency
Clearly outline your repair pricing, including any additional fees, so customers know what to expect.
8. Blog Section
Maintain a blog with informative articles about phone care, DIY tips, and industry news to position yourself as an authority.
9. Mobile Responsiveness
Ensure your website is fully responsive to provide a seamless experience on all devices, especially smartphones.
10. Warranty Information
Explain your warranty policy for repairs and any guarantees you offer to instill confidence in your services.
11. FAQ Section
Address common questions about phone repairs, turnaround times, and pricing. (See FAQ section below)
12. About Us Page
Tell your story and highlight your team's expertise and commitment to quality repairs.
13. Social Media Integration
Link your website to your social media profiles to engage with customers and showcase your work.
14. Secure Payment Options
Provide multiple secure payment methods for customer convenience and trust.
15. Data Privacy
Assure customers that their data is safe and that you follow all relevant data protection regulations.
16. Loading Speed
Optimize your website's loading speed to reduce bounce rates and improve user experience.
17. Search Engine Optimization (SEO)
Implement on-page SEO techniques to improve your website's visibility on search engines.
18. Customer Support
Offer various contact options and a responsive customer support team to assist customers with queries.
19. Testimonials and Case Studies
Highlight success stories and detailed case studies of challenging repairs you've handled.
20. Online Store (Optional)
Consider selling phone accessories or related products through an integrated online store.
21. Security Features
Invest in security measures to protect your website from cyber threats and reassure customers.
22. Newsletter Signup
Encourage visitors to subscribe to your newsletter for updates and promotions.
23. Local SEO
Optimize your website for local search to attract customers in your area.
24. Analytics and Tracking
Utilize web analytics tools to monitor user behavior and make data-driven improvements.
25. Trust Badges
Display trust badges, certifications, and affiliations to build credibility.
FAQs
How long does a typical phone repair take? Phone repair times can vary depending on the issue. Minor repairs may take a few hours, while more complex ones could take a day or two.
Is my data safe during the repair process? We take data privacy seriously. Our technicians are trained to handle your data with care, and we recommend backing up your data before any repair.
Do you offer warranties on your repairs? Yes, we provide warranties on our repairs. The warranty period may vary depending on the type of repair and the parts used.
What payment methods do you accept? We accept various payment methods, including credit cards, debit cards, and cash. Please check our website or contact us for details.
Can I book a repair appointment online? Absolutely! We have an easy-to-use online booking system on our website for your convenience.
Do you repair all phone brands and models? We specialize in repairing a wide range of phone brands and models. Contact us with your specific device for more information.
Conclusion
A well-crafted cell phone repair website is a powerful tool to attract customers, build trust, and showcase your expertise. By implementing the key elements discussed in this guide, you can create a website that not only meets the needs of your customers but also helps your repair business thrive in a competitive market.